Regions Czech
Districts Czech
Tourist region list Czech
Cities Czech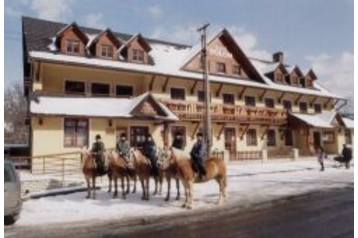 Max. capacity
: 50
Number of rooms
: 18
Pets
: Yes
&nbsp
Max. capacity
: 110
Number of rooms
: 25
Pets
: Yes
Hotel
Person / night+breakfast
510 Kč
£17
Hotel ZUBŘÍČ*** Rajnochovice
Super great value stayed at Hotel ZUBŘÍČ Rajnochovice.
For special price 490, - CZK / pers. / Night (dinner, breakfast).
Children under 3 years without bed and meals stay for free, children 3-12years paid 280 -Kč/dítě/den including half board. Price is valid for stays of two nights applies year round.
We offer relaxing holidays, celebrations, weddings, corporate training, organization, or corporate party prepared according to your needs and wishes (for groups offer a contract price).
ACCOMMODATION - Accommodation in the comfortable two-, three- and four-bed rooms with possibility of extra bed, balcony with a view to nature. TV in the room can be rent free. On the hotel reception Internet is available.
TRAINING - For education and training there are available hotel cabinets for three or more groups (15, 30, 90 people) with standard equipment: TV, video, projector, flipchart. We can create excellent conditions for different types of courses, corporate events, including the reduction and relaxation stays and sport days.
We organize social events - weddings, parties, etc.

PRICES
Price / 1 day
1-bed room - 660,- CZK
2-bedded room - 1020,- CZK
3-bedded room - 1530,- CZK
4-bedded room (or apartment) - 2040,- CZK
&nbsp
Number of rooms
: 18
Pets
: Yes
Hotel
Person / night
26 €
£22
&nbsp